Some companies use only one platform for all their communications. But many don't, or many won't always use just one. This is why, for many companies, multi-platform video conferencing hardware are becoming increasingly sought after solutions.
There are two primary reasons why companies are interested in multi-platform hardware:
To preserve the flexibility to switch services without needing to replace equipment
To enable a hybrid environment in which devices are used with optimal services for specific use-cases

What are the benefits of multi-platform video conferencing equipment?
No one can predict the future. The communications solution that works today might not be right in a few years. Technology moves rapidly. If you want to stay abreast of where the technology is at, check out our frequently updated Video Conferencing Buyer's Guide.
One way to mitigate the effects of this problem is to get multi-platforms video conferencing solutions today that are based on well-established open standards. With video conferencing, that means the omnipresent USB. USB peripherals, whether USB-A or USB-C, are going to work for a long time. They work across platforms and every service that we know of supports them. USB is as futureproof a communications technology as exists today.
Many companies establish a hybrid communications environment to use the optimal platform for every situation. Perhaps for them, Zoom is best for external video calls, Google Meet for calls with remote workers and Teams for impromptu meetings. In cases like this, the company requires video conferencing devices that work with all the different services: multi-platform video call hardware.
Manufacturers are answering the call. Poly has USB Device Mode. Yealink has BYOD Mode.
Now that we've introduced the topic and concerns in general, let's get specific by showing you an actual multi-platform video conferencing device. Let's take a look at the new Yealink VCH51.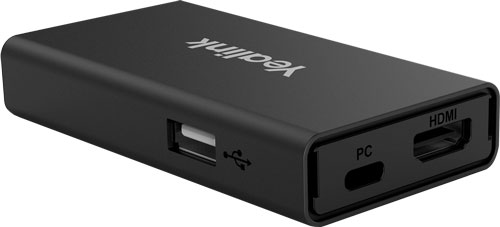 Yealink VCH51
Yealink VCH51 is a simple device: you can think of it as a hub that connects a supported Yealink video conferencing system or Yealink video bar to a computer. First, you connect VCH51 via Ethernet cable directly to the video conferencing device or to the network switch that the device is connected to. Then you connect VCH51 via USB-C or HDMI to the PC.
You can now share content with the video conferencing system in up to 4K Ultra HD resolution. (Actual maximum resolution depends on what the video conferencing platform supports.)
What makes VCH51 even more useful is that it can enable BYOD Mode.
Let's take a bit of a detour to answer a question we get a lot: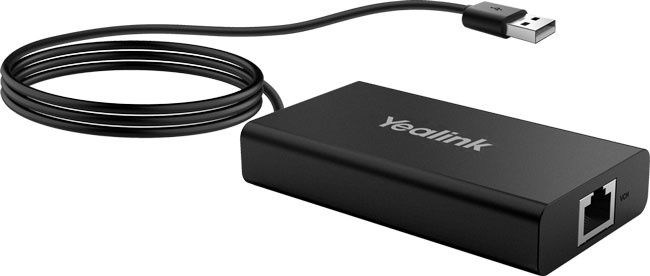 What is a Yealink BYOD video conferencing device?
VCH51 is part of a Yealink's BYOD line of products. By "BYOD," Yealink means that you can use these devices with any service: multi-platform video conferencing hardware. All you need to do is Bring Your Own Device without worrying about compatibility.
For example, Yealink MVC-BYOD-Extender lets you use supported Yealink MVC Microsoft Teams Room Systems with third-party platforms. Like VCH51, you connect a compatible Yealink video conferencing device to the MVC-BYOD-Extender via Ethernet and the extender to a PC. You can then use supported Yealink Microsoft Teams device with whatever system supports USB peripherals.
So if you're looking for maximum flexibility, you can't do much better than Yealink BYOD equipment.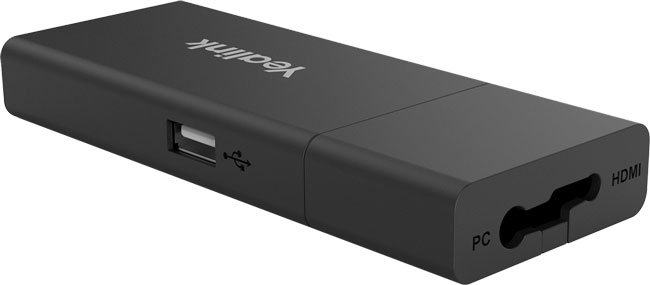 …and now, back to the VCH51
VCH51 enables BYOD Mode on several Yealink video bars, including:
These Android-based video bars are Microsoft Teams Certified or Zoom Certified for native integration with the ultra-popular platforms.
But what if you also want to use them on a different platform? Or what if you switch from one to the other? Do you need to get a new video conferencing bar?
No. All you need to do is connect them to VCH51, then connect the sharing box to a PC. You then enable BYOD Mode as covered in this Yealink support article: How to enable BYOD Mode on A20 & A30.
(If, however, you still want to shop for a video bar, check out our Video Bars Buyer's Guide.)
A couple more things about VCH51: It comes with an interface protective cover. Plug your cables in then slip the cover over them to protect them and prevent them from being dislodged. It also has a USB-A port for using a USB stick to record your conferences.
Related Blogs